Tony and Mary Anne Graham are long time residents of Mendocino. Tony is a retired lawyer who is a part time SF Giants "ball dude" and and an adjunct professor at the University of San Francisco, and Mary Anne is a retired teacher. Together they run Patterson's Irish Pub in Mendocino.
When I brought home my new Irish stainless steel baby. I drove the Pacific Coast route on Highway I with the gull-wing doors open. What a thrill.
My bubble was soon burst when I went to fill up with gas and saw fuel all over the pavement, someone at the factory forgot to connect the fille tube to the gas tank! Fortunately, it was an easy fix.
This stramgely futuristic sports car was named after its iconic designer, John Z. DeLorean, who formally ran Pontiac at General Motors. We simply could not resist buyiny it, although in 1981, $21,000 was bit pricy. Apporximately 9,000 DeLorean Motor Cars were anufactured in the Northern Ireland plant, and most of them were detined for the North Amaerican Market. Ours was one of first DeLoreans built the (VIN is 685), but today it has only 40,000 miles on the odometer.
Thanks to the help of Lotus designers, the DMC features counter'Äëbalanced gull-wing doors reminiscent of some of the classic 1950's Merceded-Benzes. the brushed
brushed stainless steel are affixed to the fiberclass underbody, and the body panals were designed to be replaced rather than be repaired. The engine is definitely not going to blow your socks off. It is 2.85 liter, single cam V6 producing only 130 hp. It can go from 0 to 60 in just under 10 seconds – it just looks like it is going fast.
John DeLorean parlayed his GTO muscle car at GM into fhe financing for Northern Ireland, plant to include such early investors as Johnny Carson of "The To Night Show" fame (who chiipped in a mere $500,000) and Sammy Davis, Jr., added another $150,000. Carson's initial experierice with the car was famously problernatic — the car broke down and and locked him inside unable to open doors! Needles to say, this is an omen of bad things to come for Deleoren.

The British goverment invested $140 million into the company with the of creating a facility near Belfast that would reduce sectarian violence stimulate the local econurny. The plant, which was located between the Catholic and Protestant Communities in Dunmurry near Belfast, had separate entrances for employees corning to work.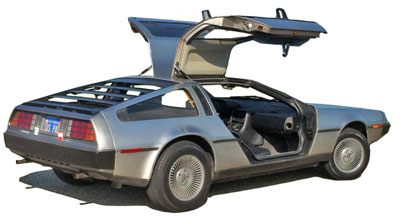 The DeLorean is probably best remembered for its role in the "Back to the Future" movies starring Michael J. Fox and Christopher Lloyd. The DeLorean time machine is a part of American film history, and I am still looking for someone to hetp me design and install the 'flux capacitor" so it can run on banana peels, coffee grounds and beer cans,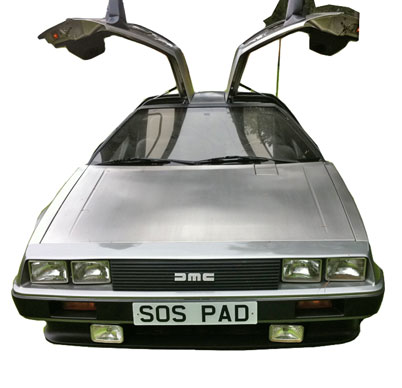 When I bought the car the speedometer only went to 90 mph (thanks to the EPA). I have since replaced it to register 160 mph. One misconception is that the gull-wing doors require a lot of clearance when parking, but in reality, only 11 inches of clearance is required.

The charming John DeLorean was busted in 1982 for selling drugs to save his failing car cornpany. The company's eventual failure resulted in a loss of 2,500 jobs and hundreds of millions of dollars in investments.

My DeLorean now lives in front of Patterson's Irish Pub in Mendocino, along with a 1955 London Taxi. It is a perfect photo opportunity to take you "Back to the Future." Don't forget your flux capacitor!
We want to know what you drive and whyl Submit a few paragraphs about your vehicle, with the subject line 'My Ride," to cars@sfchronicle.corn.
CARS it, produced by the marketing department of the San Francisco Chronicie.
For advertising rates and information, contaci Bill Barrio at (415) 771-8875 or bbarno@sfchronicle.corn.
MY RIDE Contributed by Tony Graham